Building resilience means focusing on planning and communication that identify and address risks facing the enterprise.
Organizations today face a plethora of challenges unimaginable a few short decades ago. Tejas Katwala, Co-Founder and CEO of Continuity Logic, highlights some of these challenges, stating:
"Meeting corporate objectives in today's business environment is daunting. Organizations are challenged with digital transformation, increasing regulatory pressure, and constant threats that disrupt business such as cybercrime, terrorism, natural events, and market volatility. Addressing these challenges requires advanced solutions to better understand operational risk, its critical infrastructure, technologies, and suppliers holistically. Existing legacy solutions are no longer effective, as they are rigid, operate in silos, fail to adapt to the changing enterprise, and are too costly to maintain. Consequently, organizations are left exposed to information gaps, operational complexities, and unreliable data that make it difficult for decision-makers to access accurate, real-time insights into their operations."
Faced with these complexities, the modern enterprise must concentrate its efforts on building resilience if it is to thrive.
Advantages of a Resilience Strategy
Building enterprise resilience empowers employees and strengthens the organization's ability to respond to and learn from challenges. Creating a resilient enterprise requires a comprehensive approach to systems, training, and operating that embraces the ability to learn and adapt.
Resilient organizations are those that build planned and adaptive capabilities, ensuring that the companies are prepared for obstacles and challenges. Resilience means being able to access and use available resources whenever and wherever they are needed.
Size does not matter when it comes to resilience. Organizations that are smaller and less resourced can still demonstrate resilience if they are well networked internally and connected to other entities to access necessary resources when needed. In contrast, larger organizations that have more resources can fail at resilience if they are less agile and responsive when faced with challenges.
What are some of the traits that a resilient organization demonstrates?
Ability to identify changes before they occur and as those changes present themselves
Active response to downside risk
Ability to extract maximum gain when opportunities present themselves
Ability to prevent crises from occurring
Ability to manage crises that do occur with adequate responses based on guiding protocols and training
There are seven core components of enterprise resilience. Below is a deeper look at each element.
1. Business Continuity Management
Business continuity management helps organizations plan for and respond to a variety of threats, whether data breaches or natural disasters. Business continuity is, at its foundation, a plan that helps an organization navigate, monitor, respond to, and recover from adverse issues.
Business continuity takes a broad approach, ensuring that the people, property, operations, functionality, products and services, and financial impacts of risks are assessed and managed appropriately.
Business continuity management plans define the company's objectives and identify when a plan needs to be deployed. This process includes defining what constitutes a disaster or other trigger. In addition, a sound plan answers the following questions:
What roles and jobs are filled during an activating event?
What personnel

communicate

and what messages are sent to whom during and after the event?
What are the likelihoods of any of the identified incidents occurring, whether a natural disaster, cyber attack, human error, or

other issue?
What are the likely business impacts for each issue identified? What customers, employees, suppliers, products, or services might be affected, and how critical are those impacts?
What technologies will be deployed to ensure continuity?
What gaps exist within the planning for continuity? What is being done to remedy those gaps?
Business continuity has to look at the myriad risks that can impact an organization, identify plausible solutions to those risks, prioritize those solutions based on likelihood and cost, and ensure that those solutions are put in place.
Given the ever-evolving scope of risks that face an enterprise, these plans, risks, and answers need to be revisited frequently. Staying up-to-date on emerging risks or changing likelihood of those risks is one way to ensure that companies remain prepared and resilient.
2. Disaster Recovery Management
When a disaster occurs, the identified tools in business continuity need to be deployed in an organized fashion. Disaster recovery management solutions are essential for managing a disaster. IT disaster recovery is often the primary focus of such plans, but the right solution can connect IT disaster recovery to broader enterprise-wide issues.
Disaster recovery includes development of a business impact analysis that identifies the multiple potential impacts (financial, safety, regulatory, legal, reputational) of disaster types on each system. This analysis helps identify system dependencies and priorities and leads to a clearer prioritization of recovery strategies.
Disaster recovery management requires solutions that identify those dependencies and display them clearly. Automated solutions should provide dashboards during a disaster that allow for clear understanding of status, recovery, and other issues. Gaps in operations can be visualized in real time to show updates and progress that are essential during a disaster. The right solution also will help organizations easily communicate updates to senior leadership and other employees as necessary.
3. Incident Management
Incident management is a burgeoning area of resilience that enables companies and their clients to share information in real time, strengthening responses and client relations.
Incident management allows clients to declare an incident or event in real time, notifying service providers of issues with a process, technology, supplier, or other problem. Automated solutions can be deployed to calculate and share downtime, impacts, and necessary tasks to restore operations.
Incident management focuses on the issues related to tangible assets that are affected by an event, ensuring that those issues are flagged and prioritized.
For companies looking to ensure that there is strong communication with clients, these virtual command center tools allow for broader assessments, clearer and faster communication, and better response rates to the most critical issues, all while maintaining service level agreement requirements and minimizing downtime.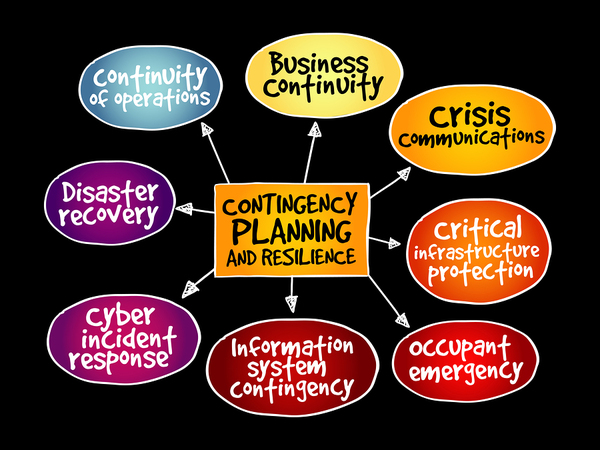 Contingency plans that address incidents, crisis communications, and business continuity constitute an enterprise approach to risk management.
4. Crisis Management
Much of crisis management is about clear communication to customers, consumers, suppliers, regulators, employees, investors, and leaders. Crisis management is about the coordination of all the efforts that are deployed to mitigate the impact of a crisis event.
Unexpected events can have deleterious impacts on an organization's resources, people, reputation, success, and continued operations. In such serious situations, it is imperative that plans designed to address the crisis are followed.
While business continuity management focuses on keeping mission-critical elements of the enterprise operating during a crisis, crisis management is focused on managing the crisis itself. It focuses on protecting the brand, its reputation, and issues related to compliance and legal requirements.
Crisis management technologies can play a pivotal role in managing these issues. For enterprises in multiple locations, there is a need for solutions that communicate across all geographies, integrate with GPS maps, and allow access on multiple devices and operating systems.
Executive dashboards allow end users access to pertinent people and information in real time. Executives can use these virtual tools to gain an enterprise-level view of the crisis in a single space.
5. Enterprise Risk Management
Companies that are continually identifying, preparing for, and deploying solutions for risks are better prepared for any issues that arise. Enterprise risk management is a disciplined approach to those risks that is repeated as necessary.
Many people associate risk with negatives, but today, risk can have either a downside or an upside. Resilient organizations are those that focus on both opportunities and challenges.
By deftly managing risk, organizations can consider strategic advantages and competitive opportunities that can arise. Upside should also be considered the preventative measures that a company takes to prevent any disasters from occurring down the road.
Enterprise risk management is about determining where companies invest resources. It begins with a thorough risk assessment plan that identifies risks and the impact on enterprise operations and continuity. For each risk, a probability is assigned and the collective risks are prioritized.
Next, solutions and responses to each risk are necessary. Those solutions need to be scoped out and priced. Finally, companies need to prioritize which solutions will be deployed first and what the impact of those solutions may be on organizations and their employees. Resilience grows as a result.
Solutions that strengthen an organization's ability to manage risk provide comprehensive risk assessments and scorecards that give stakeholders and leaders information that allows for deeper strategic conversations. Detailed reports, heat maps, and enterprise dashboards enable better insights about the organization's risk portfolio and appetite for risk, both institutionally and among its employees.
6. Vendor Risk Management
With each relationship a company has, the potential for risks emerging grows exponentially. Vendor risk management helps companies understand the risk profiles of its vendors through shared information, risk profiles, and ad hoc assessments. Vendor risk management solutions capture contracts, service level agreements, and scorecards that measure and assess risk holistically.
Information on supply chain risk can be elusive, meaning that robust solutions are essential for quantifying and mitigating risk.
7. Cybersecurity
Building cyber resilience does not end with the systems that need to be protected. It is also about the people and policies those people use to remain aware of cyber threats and how to react when a threat is realized.
Cyber resilience involves giving employees the training and tools to identify risks and learning from previous cyber incidents to strengthen resolve and response to future threats.
Cybersecurity is a key element of most modern business continuity planning and enterprise risk assessment. Because companies have multiple systems, hundreds or thousands of access points, multiple devices, and persistent nefarious elements at play, the challenges are considerable. The threat of cyber incursions grows daily, meaning companies need systems that will identify and declare cyber incidents immediately upon detection.
These solutions need to help the enterprise and its customers assess the scope of damage from cyber attacks, respond, and recover. They will assess the impact of such attacks on the enterprise and monitor progress to restore and regain control of systems and data.
Resilience Indicators
With so many interrelated components playing a role in the state of resilience, companies need to consider ways to institutionalize the planning and preparation that will ensure resilient workers. Resilience comes through the work and planning that focuses on multiple areas, including:
Leadership

that invests in continuous evaluation of risks, strategies, and preparedness
Staff engagement that connects employees' work to overall success and empowers them to make good decisions
Innovation that is encouraged and embraced to solve new problems and find solutions
Collaboration and partnerships within the organization and external to it that break down silos, encourage

teamwork,

and provide access to necessary assets when needed
Planning throughout the organization that is seen as strategic, preventative, and informational
An All-In-One Enterprise Solution
Given the importance of each of these seven components of enterprise resilience, an integrated risk management solution is needed. Where can such a solution be found?
Continuity Logic CEO Tejas Katwala provides the answer:
"Tasked with protecting and enhancing the value of organizations and its assets from such adversity, Continuity Logic offers a software platform to manage enterprise resiliency and integrated risk management programs. Continuity Logic's platform is positioned by Gartner as a Magic Quadrant Leader because of its ease-of-use and ability to connect people, processes, technology, assets, and supply chain to improve resiliency, lessen operating risk, exhibit regulatory compliance and manage small and large scale operational disruptions."
At Continuity Logic, we help companies develop resilience through a comprehensive solution that addresses all seven core areas. Our enterprise resilience and integrated risk management software helps companies plan, anticipate and respond to disruptions. Schedule time to learn how Continuity Logic can improve the operational resilience of your organization.